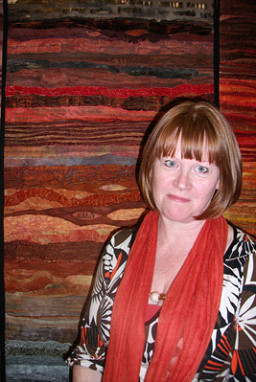 Mary started patchwork in 1995 during a year in Canada and was immediately hooked. For ten years she balanced the responsibilities of a career and three children with building up skills in traditional patchwork.
Mary had always wanted to develop her skills further and learn to create her own original work and so began a City & Guilds course in Patchwork and Quilting with Annette Morgan in 2007.
Four busy and happy years later Mary completed both the Certificate and Diploma courses in Patchwork and Quilting and was delighted to have her Diploma work selected to be exhibited in the Further Education Gallery at the Festival of Quilts in 2011. Having acquired a battery of new skills and techniques in design and stitch Mary was enthusiastic to pass on these skills to others through teaching.
Mary joined the team at Creative Stitch Suffolk in 2011 teaching the Patchwork and Quilting Level 3 certificate course for both Ipswich students and by Distance Learning. Mary completed a Post Graduate Certificate of Education in 2014.
Mary began teaching the Creative Stitched Textiles Course from 2018
Mary was appointed Principal Tutor in 2019 and now teaches on the Advanced Stitched Textiles Course
Mary is a member of the Out Of The Fold Textile Group
Mary is a member of the Quilters Guild UK. the CQ group and is Programme Secretary of the Suffolk West